Kurt A. Goehre
Attorney, Law Firm of Conway, Olejniczak & Jerry, S.C.
About Kurt A. Goehre
Kurt practices employment law and general litigation and advises clients on both business and personal matters. A large portion of his practice focuses on employment matters, including wage and hour litigation, post-employment restrictive agreements, contract disputes, labor relations, employee benefits, Worker's Compensation, employment discrimination litigation.
Kurt is an expert in various regulatory compliance issues under the Fair Labor Standards Act, state and federal Family Medical Leave Acts, Title VII of the Civil Rights Act of 1964, the Americans with Disabilities Act, the National Labor Relations Act, the Wisconsin Worker's Compensation Act, the Wisconsin Fair Employment Act, Worker Adjustment & Retraining Notification Act, and Occupational Safety and Health Administration laws. Kurt also assists clients on matters pertaining to contract drafting, insurance defense, intellectual property, corporate governance, shareholder disputes and business litigation.
Kurt has represented clients in cases before the United States Court of Appeals for the Seventh Circuit, the United States District Courts for the Eastern and Western Districts of Wisconsin, the Wisconsin Court of Appeals, Wisconsin Circuit Courts and state and federal agencies.
Prior to joining the firm, Kurt worked as a law clerk at law firms in both Michigan and Wisconsin. He also worked as a judicial intern to Justice Annette K. Ziegler of the Wisconsin Supreme Court.
Individually, a good attorney is reliable, honest, trustworthy and competent. Perhaps most important, a good attorney listens to his or her client and molds the representation around the client's needs and desires. These values drive me to achieve the best results for my clients.

- Kurt A. Goehre
Affiliations & Memberships
State Bar of Wisconsin
Brown County Bar Association
The Hon. Robert J. Parins Legal Society of Northeast Wisconsin, Inc.
Professional & Civic Activities
Board of Directors, NEW Community Shelter
Pastoral Council Member, St. Mary of De Pere
Board of Directors, Villa Hope, Inc.
State Bar of Wisconsin Insurance and Member Benefits Committee
Former Member, Steering Committee, Brown County Teen Leadership
Leadership Green Bay, Class of 2011
Publications
Author, "Is the Demand Requirement Obsolete? How the United Kingdom Modernized its Shareholder Derivative Procedure and What the United States Can Learn From it," Wisconsin International Law Journal, Spring 2010
Author/Contributor, Ch. 26: Loss of Profits, Law of Damages in Wisconsin.
Honors & Recognitions
Best Lawyers in America® - Ones To Watch, Midwest Edition (Labor & Employment Law – Management) 2021-2022
Wisconsin Super Lawyers® - Rising Stars 2013-2022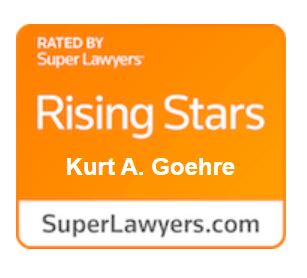 Legal Resources by Kurt A. Goehre